The right lighting design can make a big difference to the look and feel of your client's space, but achieving the ideal balance between the aesthetic and the functional can be tricky. So why not call in the professionals?
As lighting specialists, we give you the choice of three design services that will transform your client's home into a designer dream. Perfect for a home makeover, renovation or new build or small commercial projects.
As a Beacon Trade member, you receive our in-store and in-home lighting design services for FREE! Get free expert advice from our accredited lighting designers on the best products and placement for your projects, styling ideas and insights into the latest trends and technology. Just bring in your client's existing electrical plans and we'll take it from there. Your clients can also access both these services for free with your referral card.
If you need further help, consider our premium in-studio design service which will give you a fully customised, detailed lighting plan complete with quotes for you - the electrician, builder or architect. You can access this service for a fixed fee.
Whichever service you choose, your project will shine!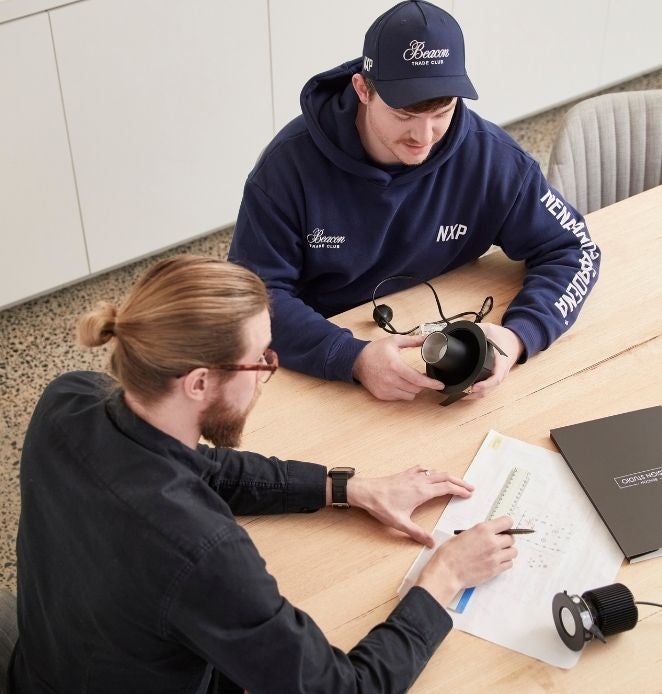 Free in-store advice
For free advice, you or your clients can just drop in at any of our Beacon stores nationwide and speak to our lighting specialists for inspiration and ideas on which lighting will be perfect for your project.
Easy way to access FREE expert advice
Design ideas and inspiration from qualified lighting specialists
Help to select best products to suit current electrical plans
Ideal for residential projects with one or more rooms to light
FREE for you and your clients
Available at your nearest store
Virtual consultations available
In-home style refresh
An accredited lighting consultant will visit your client's home or your job site to discuss your decorating style and budget and offer professional advice about the best products and placement to elevate each space.
Ideal for large and small residential renovations
Multiple rooms
Working with existing electrical
Help to choose right products and placement
Virtual consultations available
Consultation worth $100 – FREE for you and your clients



In-studio design experience
Give your client's space the ultimate designer touch at a personal in-studio session with one of our accredited lighting designers. Get expert insights into the latest trends, technology and designs and receive a customised lighting plan to enhance the aesthetics of your space.
Premium service for commercial or residential
Ideal for new builds and extensive renovations
Fully customised, detailed lighting plan
Suggested designs, placement and fittings.
Detailed quote for you and your electrician/builder/architect
Contact your local store to enquire about this service and the fees
Learn about our three service & advice options
Three Birds Renovations comes to Beacon Design Studio
Need help?
If you'd like to chat to one of our friendly team members or need assistance applying or logging in, call Tina on 03 8561 1502 or email us.